Dimmable Outdoor LED Power Supply
IP67-UL Series
The IP67-UL Series is a high performance "one size fits all" dimmable outdoor power supply designed to last a lifetime. The dimming variant allows you to use triac or 0-10V dimmer switches such as Lutron, Leviton, and other brands.
Multiple silicone seals within the fixture creates a water-tight environment able to withstand any weather. The IP67-12V Series powers 9~24V  lighting applications with constant voltage output.
Experience a true universal power supply solution.
Specifications
UL Listed
IP67
Triac and 0-10V Dimmable
Output: 9~24VDC
Input: 90-130VAC
3 year warranty
Powers up to 300 watts
Downloads
Certifications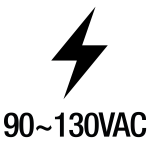 Main Features
Dimming Function
Use Triac or 0-10V dimmers and pair your low voltage light fixtures with high voltage fixtures.
IP67 Waterproof
Your power supply is ensured to last any weather in any terrain. IP67 ingress protection provides a complete seal against water and dust.
Universal Power
Power up to 300 watts of led lighting with 5, 9, 12, and 24 constant voltage options.
Model Variations
| Model Number | Wattage Capability | Triac & 0-10V Dimmable | Input Voltage | Output Voltage | Current (A) | Dimensions | Waterproof Rating |
| --- | --- | --- | --- | --- | --- | --- | --- |
| P-S30-5-UL | 30 | No | 110 VAC | 5 VDC | 6A | 20.3*1.3*0.8cm | IP67 |
| P-S40-9-UL | 40 | No | 110~240 VAC | 9 VDC | 4.45A | 9.4*7.0*1.4cm | IP67 |
| P-S100-UL | 100 | No | 90~130 VAC | 12 VDC | 8.3A | 17.8*6.2*1.9cm | IP67 |
| P-S100-D-UL | 100 | Yes | 90~130 VAC | 12 VDC | 8.3A | 17.8*6.2*1.9cm | IP67 |
| P-S100-24-UL | 100 | No | 110VAC | 24 VDC | 4.17A | 17.8*6.2*1.9cm | IP67 |
| P-S100-24-D-UL | 100 | Yes | 90~130 VAC | 24 VDC | 4.17A | 17.8*6.2*1.9cm | IP67 |
| P-S200-UL | 200 | No | 110VAC | 12 VDC | 16.7A | 23.8*5.8*3.2cm | IP67 |
| P-S200-D-UL | 200 | Yes | 90~130 VAC | 12 VDC | 16.7A | 23.8*5.8*3.2cm | IP67 |
| P-S200-24-UL | 200 | No | 110VAC | 24 VDC | 8.33A | 23.8*5.8*3.2cm | IP67 |
| P-S200-24-D-UL | 200 | Yes | 90~130 VAC | 24 VDC | 8.33A | 23.8*5.8*3.2cm | IP67 |
| P-S250-UL | 250 | No | 90~130 VAC | 12 VDC | 20.83A | 22.8*8.0*3.2cm | IP67 |
| P-S250-24-UL | 250 | No | 90~130 VAC | 24 VDC | 10.41A | 22.8*8.0*3.2cm | IP67 |
| P-S300-UL | 300 | No | 90~130 VAC | 12 VDC | 25A | 22.8*8.0*3.2cm | IP67 |
| P-S300-D-UL | 300 | Yes | 90~130 VAC | 12 VDC | 25A | 22.8*8.0*3.2cm | IP67 |
| P-S300-24-UL | 300 | No | 90~130 VAC | 24 VDC | 12.5A | 22.8*8.0*3.2cm | IP67 |